Check In \ Processing
---
ACS Welcome Center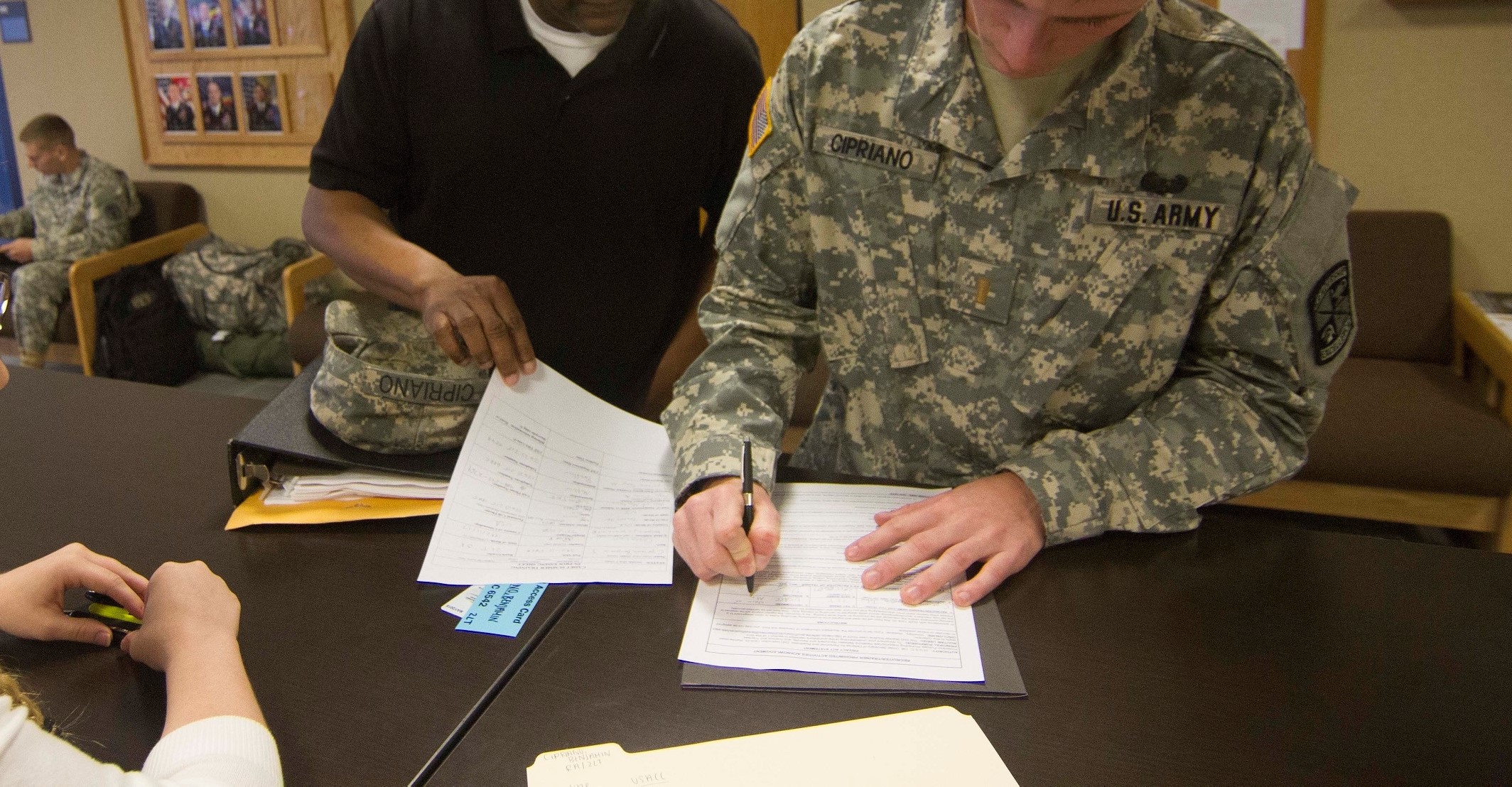 6733 Air Assault St
Fort Campbell, KY 42223
Phone 270-798-9322 / 270-798-6313
Phone (DSN) 312-635-9322
Fax 270-798-6299
Fax (DSN) 312-635-6299
Mon - Fri 7:30 a.m. - 4:30 p.m.
Sat - closed
Sun - closed
Federal Holidays - closed
Check-in Procedures
Inprocessing Procedures
All incoming personnel must report to Replacement Detachment 6916 Desert Storm Ave and 34th Street to sign in, 24 hours a day and 7 days a week. All Soldiers must report in between 6:00 a.m.-5:30 p.m. and in Army Combat Uniform (ACU's). Detachment cadre will coordinate in-processing for newly arrived Soldiers, and provide billeting for unaccompanied staff sergeants and below. Billeting is available in the Replacement barracks for unaccompanied sergeants and E5 and below. Soldiers accompanied by their families, and Soldiers in ranks of sergeant first class and above are authorized billeting on a space available basis in the Intercontinental Hotel Groups (IHG) located at 82 Texas Ave, located inside gate 4.
For more information on Kalsu Replacement Company, contact 270-798-2813 or clickhere.
Your in-processing is organized to reduce the time needed to process into post. In-processing takes approximately 6-8 days. Haircuts and uniforms will be inspected daily to IAW Divisions Standards. While in-processing, your records are updated, any pay due is made, and your new unit of assignment is given to you. Dental exams and records are also updated. Information regarding assignment of on and off post housing is provided by the Fort Campbell Family Housing and Housing Services Office both located in Bldg 850 16th Street.
Qualified service members (those who are typically not assigned to barracks or who have not already been assigned family type quarters) can be authorized Permissive Temporary Duty (PTDY) for up to 10 days to find a home in conjunction with a PCS move between and within the 50 states & District of Columbia. Permissive means there is no allowance for transportation or per diem, but members are not charged leave during this time. Service members may request this PTDY from their first O-5 (LTC) Commander anytime after they receive their PCS Orders. Since there is no travel entitlement authorized with PTDY, most service members elect to use this benefit after departing their old duty station, and before signing in at their new duty station.
If you are authorized Permissive TDY (PTDY) from your prior duty station, you must report to Fort Campbell Housing Services (FCHSO) located at 850, 16th Street to have your orders stamped on the day your permissive TDY begins. You will receive a housing stamp and date on your DA Form 31 which will sign you out on PTDY. DO NOT SIGN INTO THE REPLACEMENT COMPANY! Your PTDY will end on the date specified on your DA Form 31, or the date you sign into Fort Campbell, whichever comes first. If the leave form is not properly stamped and dated by FCHSO, Finance will charge you regular annual leave instead of PTDY.
NOTE: IAW AR 600-8-10, para 5-31a.: "Commanders of units normally commanded by officers in the rank of lieutenant colonel or higher, are authorized to approve when period of absence is 10 days or less."
If you do not have approval from the losing duty station before arriving to Fort Campbell, it is recommended that that you sign into Replacement first to in-process and then once assigned to a unit. Permissive Temporary Duty (PTDY) can be requested from the unit commanders.
The "Soldier & Family Newcomers' Orientation" is an interactive Family Orientation to welcome and inform newly arrived Soldiers and Family Members of resources available at Fort Campbell. The Soldier and Family Newcomers' Orientation is a one stop shop for Newcomers information in one location so Newcomers don't have to drive all over the post looking for information. The Newcomers Orientation is held every Thursday at the ACS Family Resource Center from 9:00 a.m. - 3:00 p.m. The Orientation is mandatory for all Soldiers arriving Fort Campbell and Family Members are strongly encouraged to attend. Representatives from other agencies to include Army Community Service (ACS) will be setting up an information booth with important information for "Newcomers." Other agencies participating are; Family, Morale, Welfare and Recreation, Chaplains, BOSS, Armed Services YMCA, American Red Cross, Family Readiness Support Assistance, Army Education Center, Family Housing On/Off Post, Education Center, School Liaison, Child and Youth School Services, local Community Chambers, Family Readiness Support Assistants, Medical and Dental. A bus tour of the installation and lunch is included. Free Childcare is available. Due to limited childcare slots available, must complete form attached and provide to our office. For more information contact our office at 270-798-6313/0513/956-2676.
What to do if you get Married Enroute
If you get married before you PCS, you must inform your commander and follow the procedures exactly as you are given them. The military will not pay for travel and housing of your spouse if you do not follow proper procedures. Make sure your PCS orders states with "dependent".
When you arrived at Ft Campbell and you don't have a sponsor; a sponsor will be provided to you once you're assigned to a unit. For more information contact Kalsu replacement detachment 270-798-2813/2817.