Check In \ Processing
---
Welcome/Visitors Center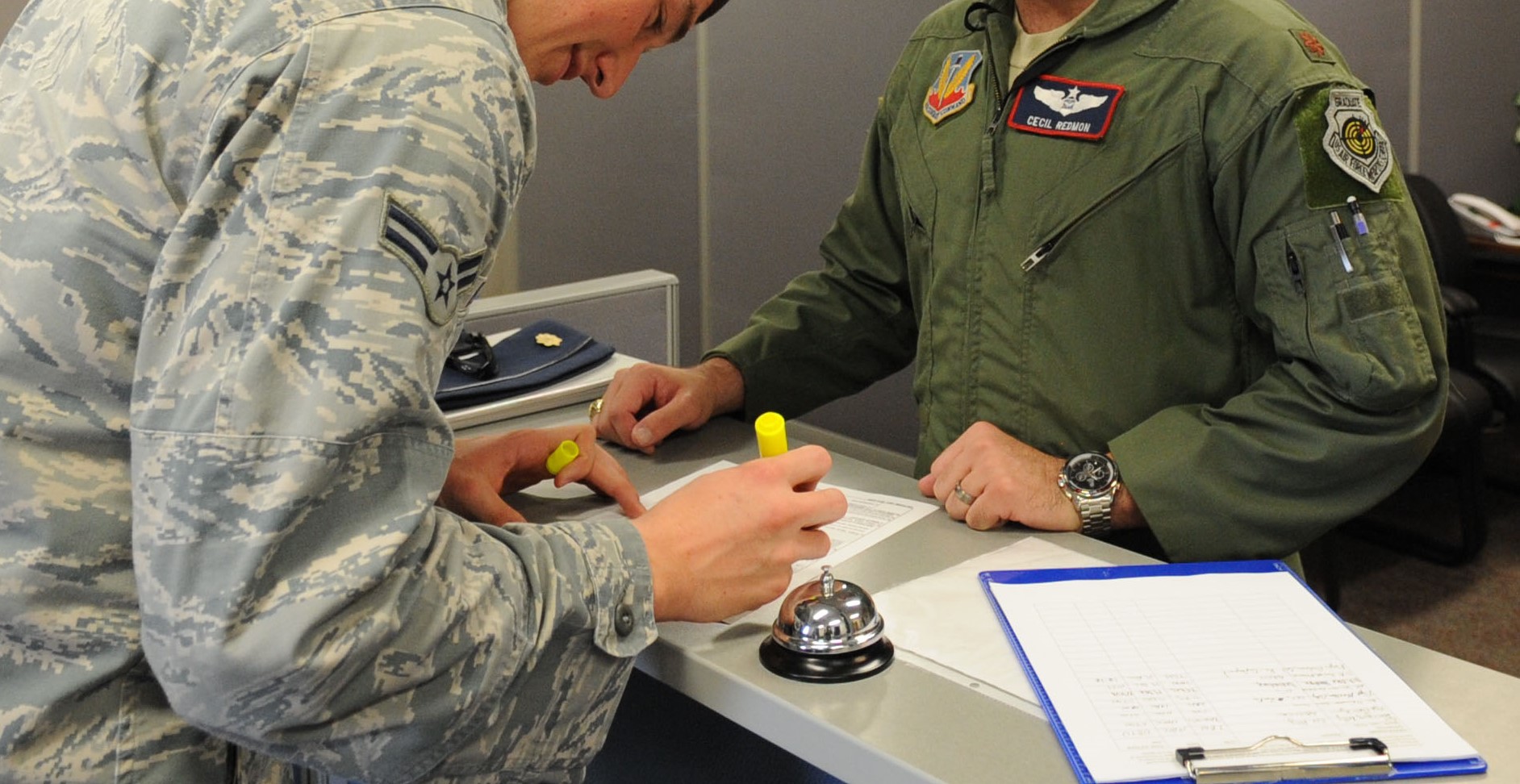 2580 Hwy 98
Tyndall AFB, FL 32403
Phone 850-283-4070 / 850-283-3860
Phone (DSN) 312-523-4070/3860
Fax 850-283-2202
Fax (DSN) 312-523-2202
7 days/week 6:00 a.m. - 10:00 p.m.
All Holidays - open
Inprocessing Procedures
Newly arriving military members are greeted during normal duty hours by the base INTRO manager, located in the MPF Customer Service section of the Base Support Center, Bldg 662, Room 129. Those arriving after normal duty hours may report to the 24 hour arrival point in the lodging office, Bldg 1332, for lodging assignments.
Upon arrival at Tyndall, contact your sponsor. They will accompany you through inprocessing. If you haven't been assigned, or been in contact with your sponsor, contact Tyndall's INTRO manager before arriving and a sponsor will be assigned. Please contact the Airman and Family Readiness Center at (850) 283-4204 if you still do not have a sponsor AFTER you arrive at Tyndall for assistance.
All military members must first inprocess through their squadron command support staff section before taking their records to INTRO. All hand-carried records and documents should be available for the base INTRO manager to begin in processing.
Relocation counseling, sponsorship assistance as well as information of personal finances are available at the Airman and Family Readiness Center. Contact the TMO at (850) 283-8166 for any move related questions, such as household goods, hold baggage, or other household move issues.

Married Servicemembers
If you get married before you PCS, you MUST inform your commander and follow the procedures exactly as you are given them. The military WILL NOT PAY for travel and housing expense of your spouse if you do not follow proper procedures.
TDY for House Hunting
Report to your unit Command Support Staff Section and request permissive TDY for house hunting. Prior to beginning your house hunt, be sure to check with the Housing Management Office and the Family Support Relocation Center for base and community information.

Helpful Hints for Before You Move
Get Relocation Counseling-Attend Smooth Move at the Airman and Family Readiness Center, or schedule an appointment with the Airman and Family Readiness Center staff members.
Sponsorship-Regardless of rank, everyone should have a sponsor. This is a two way street, maintain the lines of communication and advise your sponsor of any changes in your itinerary or reporting date. Be proactive!
Finances- Be careful when taking advance pay because this will be paid back via allotment. Also, ensure that you know what your other allowances and entitlements are. Call your local Finance Office to get information before you PCS.
Household Goods-Make sure you know what this means.
Unaccompanied baggage (Hold Baggage)- Ask your local TMO what this means.
Self Moves (Personally Procured Moves, the old DITY or Do It Yourself Move)- Ask TMO about a partial PPM.
Sort your Household Goods- Most people accumulate a lot of things that can be disposed of via the base Thrift Shop, Airman's Attic or yard sales.
Inventory Household Goods- It is a good idea to make a photographic record of your household goods.