Childcare
---
Child Development Center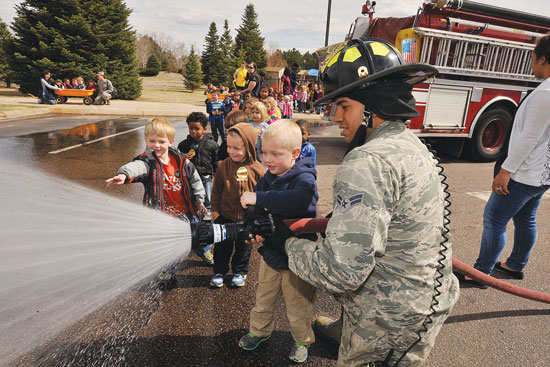 7813 Hangar Loop Drive
MacDill AFB, FL 33621
Phone 813-828-3332
Phone (DSN) 312-968-5195
Fax 813-828-7680
Fax (DSN) 312-968-7680
Mon – Fri 6:30 a.m. – 6:00p.m.
Sat and Sun - closed
Child Development Center (CDC)
MacDill Child Development Programs operates three Child Development Centers. All three centers are DoD Certified and NAEYC accredited offering quality early childhood programming for your children, specializing in learning through play. Enrollment is available on a priority basis for children 6 weeks to 5 years. Additionally all sites are participants in the Florida Voluntary Pre-Kindergarten Program for eligible children, 4 & 5 years of age. USDA Child Care Food Program requirements are ensured. You may contact the Child Development Center at 813-828-3332/5195/2244 or DSN 312-968-3332/5195/2244.
Programs Offered

Give Parents a Break Program

The Child Development Center (CDC) opens one Saturday a month for the Air Force Aid Society funded Give Parents a Break program. The program targets military families under stress, separated due to deployment, and single parents. Eligibility for the program requires a written referral from a Commander, First Sergeant, Chaplain, Family Advocacy, CDC, physician or the Airman and Family Readiness Center.

School Age Program (SAP)

The School Age Program is designed to provide developmental care promoting readiness and quality of life. The School Age philosophy is to provide opportunities for youth to develop their physical, social, emotional, and cognitive abilities, and to experience achievement, leadership, enjoyment, friendship, and recognition. The program accommodates 145 children first through sixth grade.

Child Care for PCS Program

The Child Care for PCS program offers 20 hours of free child care to Air Force families and 10 hours to Army, Navy and Marine families with PCS orders. Child Care is provided through the Family Child Care Providers and must be used within 60 days of departure/arrival. This program is open to all ranks. Contact the Airman and Family Readiness Center at 813-828-0137 or stop by the Airman & Family Readiness Center 2306 Florida Keys Ave to get a voucher.

Eligibility Requirements

Those eligible to utilize our programs include all wounded warriors, active duty, DoD civilians, activated Guard and Reserve, and contractors assigned to MacDill AFB. Established priority placement procedures apply when filling vacancies.

Registration Criteria

Personnel relocating to MacDill AFB who have a need for Child Development Center (CDC) services can pre-register their children. The CDC requires a registration package for each child including an AF Form 1181 to be completed with proof of all required immunizations prior to the start of any CDC program. The Enrollment Package may be downloaded and completed Upon receipt of your orders, contact your local CDC for an application. Forward copy of orders and application for pre-registration to the MacDill CDC and your children go on the waiting list effective the date information is received.
Once you have arrived, parents may register their children for care at the CDC, Youth Program or Family Child Care by using a DD Form 2606.

Fees

All Child Care Fees are in accordance with the Department of Defense guidelines and are based on Total Family Income (TFI). A sliding scale is used for fees. CDC fees cover quality child care, meals and snacks which include (breakfast, lunch, afternoon and evening snack).

Priority Care

Priority is determined as follows: First priority to dual active duty military (mil-mil) families and active duty single parent.

Waiting List

The waiting time varies for each age group. Please contact the Child Development Center for current information.

Hourly or Drop In Care

Space available slots are available and are based on the absent of a regular enrolled child being on vacation or out sick.

Number of Child Care Center

The MacDill Child Development Program operates three Child Development Centers

Respite Care

The Air Force Aid Society (AFAS) Respite Care Program is intended for active duty Air Force families who have a family member with special needs. The goal of the program is to provide a "break" for a few hours a week or month to families who have the responsibility of 24 hour a day care for an ill or disabled family member. This person may be a child, spouse, or parent living in the household.

AFAS Assistance for respite is based on need -- the need for respite time, as well as financial need, and is always given as a grant. Families with a special needs family member who have the financial means to pay for care should do so. Our program is intended to assist those who cannot afford it and would otherwise never get a "break".
Families are referred to the Air Force Aid Society for respite care through the Exceptional Family Member Program (EFMP) or the Family Advocacy Office.