Check In \ Processing
---
Personnel Support Office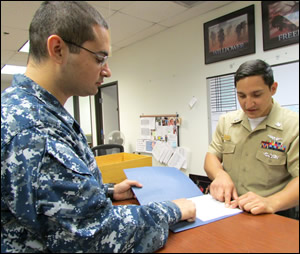 Personnel Support Detachment (PSD)
3515 N Princeton
Building 2641, Ault Field
Oak Harbor, WA 98278-5800
Phone 360-257-1102
Phone (DSN) 312-820-1102
Fax 360-257-2358
Fax (DSN) 312-820-2358
Mon, Tue, Wed & Fri 7:00 a.m. - 4:00 p.m.
Thu 9:00 a.m. - 4:00 p.m.
Closed weekends and holidays
Reporting Procedures
Newly arriving personnel reporting to NASWI must check-in with the station Officer of the Deck (OOD) at the base quarterdeck in Building 385. The quarterdeck is open 24 hours a day, 7 days a week. Personnel attached to NAS commands will then be instructed to report to the NAS Admin Office, topside in Building 385.
Base-wide indoctrination briefings are usually conducted the first full week of each month on Tuesday and Wednesday at the CPO Club and are open for family members to attend. For questions, please call 360-257-2181. Another opportunity for spouses to get in-depth information about the Navy lifestyle and NASWI programs is to attend the Fleet and Family Support Center's New Spouse Orientation workshop, which is held once a quarter. For more information or to sign up for the next class, please call 360-257-NAVY (6289).
Tenant Command or Squadron
Those personnel checking in to a tenant command or squadron should report to their respective duty office. If the command is deployed, check-in with the OOD at the base quarterdeck in Building 385 to be referred to the correct administrative wing for in-processing. For a list of tenant commands and squadrons to include duty phone numbers, please visit the Major Unit Listings tab.
What to do if you get married enroute?
If you get married before you PCS you MUST inform your command and follow the procedures exactly as they are given. The military will NOT pay for travel and housing of your spouse if you do not follow proper procedures.