Childcare
---
Childcare
Child Development Services (CDS)
Central Enrollment is the registration office for all Child and Youth Services programs. CYS is comprised of five delivery systems: Child Development Center, Family Child Care, School Age Service Programs, Outreach Services and a Middle School Teen Program.
Placement rankings are in order of priority, Wounded Warriors; single parent/dual military couple; Active Duty military with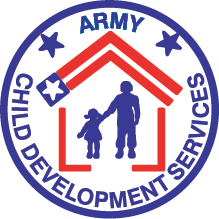 working or student spouse; Active Duty military with non-working spouse; Single Active Reserve or Active National Guard; Activated Reserve with working or student spouse; Activated Reserve with non-working spouse; single Department of Defense; dual career DoD, DoD civilian with working or student spouse; DoD civilian with non-working spouses and other.
All programs are Department. of Defense (DOD) Certified and the CDC and SAS program are Nationally Accredited. For more information on any child care program, you may call the CYS office at 256-876-3704.
The New Parent Support Program offers free play mornings, home visits and baby bundles for new military parents. Play mornings are held at Childwise, 1413 Nike Street, on Tuesday and Thursday are designed to support parents as well as your child's social, cognitive and motor development. The sessions are held from 9:30 a.m. to 11:00 a.m., 1413 Nike Street. For more information, call Army Community Service at 256-876-5397.
Total Tots offers respite care for military families experiencing stress. For more information about free respite care, call the Army Community Service Family Advocacy Program at 256-876-5397. The CYS offers deployed military 16 hours of respite care per month. For more information, contact the CYS Director at 256-876-3704.
Waiting list varies based on age category, program and placement ranking. For more information and to get on the waiting list, contact Central Enrollment at 256-876-3704.
The Redstone CYS is considering a preschool program. For more information, contact Central Enrollment.
Child Development Center (CDC)
The Redstone Arsenal CDC on Goss Road can be reached by calling 256-876-7952. The CDC Center on Mills Road can be reached by calling 256-842-5864. The CDC provides full day and hourly care for children 6 weeks to 5 years of age. Registration can be done through Parent Services at 256-876-3704 or stop by Bldg 3443, General John J. Pershing Welcome and Community Center.
The Philosophy of the CDC is one based on "hands on" active learning. It is our belief that the work of children is play, and it is through play that children learn. To support our commitment to quality programming, the CDC is accredited by the National Association for the Education of Young Children and certified annually by the Department of Defense.
Hours of Operation -- The CDC is open Monday through Friday 5:00 a.m. to 5:30 p.m.
Eligibility -- The CDC is open to children of active duty military, DOD civilians and contractors, Reservists, and full time National Guard.
Programs Offered -- The Child Development Center offers:
Full day care for children whose parents are either working full-time or attending school full-time. Our developmentally appropriate curriculum and low caregiver to child ratios ensure a supportive, comfortable and accepting atmosphere for every child.
Hourly care, provided at the Child Development Center from 7:30 am until 4:00 pm. It is designed for families who need child care on an occasional basis for any reason. Reservations are required and may be made one month in advance; however usage is limited to 20 hours per week per child.
Costs -- Fees are a sliding scale based on family income and dictated by Department of Defense guidelines. Central Registration can be reached at 256-876-3704.
Family Child Care (FCC)
The Family Child Care program provides quality child care in a warm, family-like home setting. This program serves children between the ages of 4 weeks to 12 years in a variety of programs including, full time, part day and hourly care. In addition, some home provide extended duty care.
FCC providers are required to participate in an extensive training program with the Training and Curriculum Specialist and the CYS Nutritionist. The training includes:
Medication and Communicable Diseases
CPR/First Aid
Child Abuse, Safety
Parent Public Relations
Child Guidance
FCC Business practices
Nutrition
Menu Planning
Sanitation
Special Needs
For more information on the FCC program, call us at 256-876-2798.
School Age Services (SAS)
School Age Services (SAS) has been accredited by the National School-Age Care Alliance (NSACA) since March 2001. NSACA Accreditation symbolizes a commitment to quality school-age care. SAS was re-accredited by NAA in January 2006. Eligible users include youth grades K thru 5th grades.
The school age services program is at Goss Road between the Child Development Center and the Middle School/Teen Center. The School Age Program serves a variety of needs including a computer lab and homework assistance.
During the school year, SAS provides Before and After School Programs to meet the needs of parents and children alike.
Hours of Operation -- The hours for our before school program are Monday thru Friday 5:30-7:30 am and for our after school program Monday thru Friday 2:30-5:30 pm. Full day programs (camps, school out days) are offered Monday thru Friday 5:30 am until 5:30 pm.
These programs complement the schedule used by the Huntsville City School System. We are open full days during school holidays to accommodate your childcare needs. Hourly care is available to children not enrolled in our regular programs during these times, but are limited to space availability.
From the end of May through the beginning of August, SAS offers a summer camp for children grades Kindergarten thru 5th grades.