Childcare
---
Family Child Care Office - Lackland AFB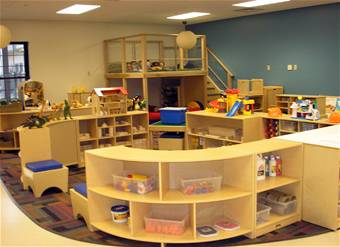 1531 Connally Street
Building 6629, Room 120
Lackland AFB, TX 78236
Phone 210-671-3380
Phone (DSN) 312-473-3380
Fax 210-671-0276
Fax (DSN) 312-473-0276
Mon – Fri 8:00 a.m. – 5:00 p.m.
Weekends and federal holidays - closed
Child Care – Fort Sam Houston

CDC offers a developmental program for children between six weeks and five years of age. The center provides meals and snacks. You may contact the CDC at 210-221-5002 or DSN 312-471-5002. The CDC is accredited by the National Association of the Education of Young Children (NAEYC) and certified by the Department of Defense (DOD).
Hours of Operation for the CDC are Monday through Friday, 5:30 a.m. - 5:30 p.m.
The CDC offers a seamless childcare and youth delivery system. At Fort Sam Houston CYS programs are:

Child Development Center
Head Start Center
Family Child Care Homes
School Age Services (Before/After School and Camps), Middle School/Teen Program
Sports and Fitness Program
CYS Liaison Education and Outreach Services (CLEOS): Outreach Services and School Liaison Services

Parent Central

All patrons wishing to participate in child care and/or recreational activities offered by CYS Services must complete the registration process prior to utilizing the programs. Children identified as having a special need must complete the special needs accommodation planning team process prior to utilizing the programs.

Documents needed to register:

Current immunization records (Birth-Elementary School)
Child health assessment/Sport physical (within the last 12 months). Sport physical must be valid for the entire selected sport season.
Proof of total family income (LES and pay statement)
Family care plan (Single and Dual Military and deployable Civilians)
Two local release/emergency designees (address and telephone numbers)
Household and/or work email address
All Family members social security number
School grade and school year
State specific USDA Food Application
Special Needs information if applicable
Residence and mailing address (if different)
For information on Respite Care availability and a waiting list, contact the CDC Center as soon as possible.

Eligibility

Any child/youth between 4 weeks and 18 years of age who is a dependent of an:

Active Duty Military Member
Department of Defense (DOD) Civilian
DOD Contractor
Retired Military
Reservist on Active Duty
National Guard
Coast Guard

Priority Care

The Priority Care List starts when the Child Development Center is full, the Family Child Care is full and the Off post referral (Family Child care in your Neighborhood) is full. The priority list is on a first come first serve basis. "Wounded Warriors are priority one".
Preschool program is a full day 5:30 a.m. - 5:30 p.m., before and after school.

Family Child Care (FCC)

Family Child Care (FCC) offers age appropriate care for children four (4) weeks through twelve (12) years of age in certified FCC homes on and off the installation. Hourly, full and part-time, extended and long term care is offered. The FCC program offers family members self-employment opportunities, which includes no cost training and start-up support. Some FCC homes are accredited by the National Association of Family Child Care (NAFCC). For more information on the FCC program, you may contact the FCC office at 210-221-3828 or DSN 312-471-3828.

School Age Services (SAS)

The School Age Services Program is located in Building 1705 off Winans Road. The SAS Program is accredited by the National After School Association and certified by Department of Defense an offers a Before and After School Program, Open Recreation Program, Reserve Hourly Care, Seasonal Camps (Spring, Fall, Winter, and Summer) and Teacher In-Service Camps for children in first through sixth grades.
The Before School Program operates Monday-Friday from 6 a.m. until school begins on Fort Sam Houston Elementary School regular school days. The After School Program begins at the release from school and until 6 p.m. daily. All children using the School-Age Services Program must be registered with Child and Youth Services Central Registration.

Child Care - Lackland AFB

Child development program is one of the largest in the Air Force.
The Lackland, Kelly Field and Gateway Child Development Centers care for more than 550 children daily, supported by a staff of 200. All three centers are certified. See contact listing for phone numbers and addresses.
The Lackland child development program was named best in the Air Force for the third year in a row.
Each center offers a different level of service. Kelly Field CDC cares for infants to 5 year olds; Lackland CDC cares for children, ages 3-5 and runs an after school program for children enrolled in 4-year-old and pre-kindergarten classes at Lackland Elementary School; and Gateway CDC cares for infants to 5 year olds and also serves special needs children. Coming in 2012, the Lackland CDC will be serving children six weeks to 5 years old.
Only the Lackland CDC offers a part-day enrichment program for 3 to 5 year olds that provides three different sessions Aug-May 2-days (Tuesday and Thursdays) and 3-days (Monday, Wednesday and Friday) and a 5-day session (Monday through Friday.)

Special Needs Care

The Lackland and Gateway CDCs care for special needs family members. A review of the family member's needs is made to ensure the CDC can meet their needs. If they cannot, a referral will make for off base.

Eligibility

Active duty Airmen, family members. DOD civilians or NAF employees are all eligible to use the CDCs. There are four priority groups:
Active Duty Military/DoD Civilians - Single Parents assigned to or working on the installation.
Active Duty Military/DoD Civilians - Dual employed parents assigned to/working on the installation.
Active Duty Military/DoD Civilians - One parent employed/assigned to installation (both parents working or in full-time student status.
Active Duty Military/DoD Civilians - Not assigned to the installation (single, dual, and one parent employed.

Application Procedures

Applications are processed through the Family Child Care Office. The required documents are:

DD Form 2606 -- This form can be downloaded or picked up at any CDC.
Lackland AFB physical form
A copy of the orders

Applications can be submitted in advance by faxing them to the Family Child Care Office along with a copy of the orders. The fax number is 210-671-0276. Upon arrival, please pick up the physical form to be completed by the child's physician.
If the child is placed on a waiting list, be sure that the Family Child Care Office always has a current work and home number. If an opening becomes available, it will go to the first person on the waiting list that can be reached. If your phone number information is incorrect, you will not get that slot.

Waiting Lists

There are usually waiting lists for infant care in the CDCs. There may be a six month wait in some instances. For the preschool ages, there is seldom a long wait, especially in the Kelly Field CDC. Because of its distance from the main installation, there is more likely to be an open slot.

Family Child Care Providers

On an average, the installation has approximately 40 family day care homes. The roster of day care homes is updated at the beginning of each month. It is available at the Lackland website. Hard copies are available at the Family Child Care office and at the AFRF.

Drop-In or Hourly Care

No slots are set aside in any of the CDCs for drop-in care. It is necessary to contact the CDCs at the beginning of the day to see if there are any vacancies for that day. There is no procedure for reserving drop-in care slots in advance.

School Age Program (SAP)

The School Age Program is accredited by National Association for the Education of Young Children and the Counsel on Accreditation.
Eligibility

School Age Programs are open to active-duty Military, DoD Civilian, and NAF civilian dependents from kindergarten through grade 12. Youth must be a current member in good standing with Lackland Youth Programs.
Priority is given to single parents, or families where both parents are employed or enrolled in school outside the home.

Costs

A sliding scale, based on the annual family income, determines the fee using DoD Form 2652. All fees are to be paid the Friday before the week of care. On full day camps, child care may not exceed 10 hours. Because the rate structure is complicated, please call the youth center to determine what the cost will be for your family.

Hours of Operation

Before and After School Care is available Monday through Friday, 6:00 a.m. - 8:00 a.m. and 2:30 p.m. - 6:00 p.m. Day Camp is available 6:00 a.m. - 6:00 p.m.
For more information about the SAP, contact Youth Programs at 210-671-2388/2510.
Play Groups

Family Advocacy partners with the CDCs to offer play groups on Thursday mornings from 10:00 a.m. to 11:30 a.m. at Corner Wilford Hall Loop and Admiral Boorda Bldg. This is an informal group that offers children the opportunity to interact with each other. Because parents are required to remain, there is also an opportunity to network with each other. There is no registration, no commitment, and no cost. For additional information, call Family Advocacy at 210-292-5967.

Child Care – Randolph AFB

Randolph's Child Development Programs are accredited through the National Association for the Education of Young Children (NAEYC) and were named Best in AETC 04,06,07,08 and Best in AF 2007. The Development Programs have age-appropriate programs designed to promote development and fun and provide activities and programs which support children's social, emotional, physical and cognitive development.

Hours of Operation

The centers are open Monday through Friday, 6:30 a.m. - 5:45 p.m. Weekends and Holidays, the centers are closed.

Centers on Installation

There are 2 CDP facilities on Randolph AFB:

The Main Child Development Program (CDP) provides care for 138 children, 2-5 years of age, and is located in building 1072. The phone number is DSN 312-487-4946 or 210-652-4946 and the fax is 210-652-2574.
The Child Development Program Annex provides care for 54 children, 6 weeks - 24 months of age, and is located in building 734. In addition, the annex offers a Part Day Enrichment Program for preschool children in Bldg 584. The phone number is DSN 312-487-1140 or 210-652-1140 and the fax is 210-652-1144.

Programs Offered

Programs available at the CDPs include full time weekly care, hourly care space available and a Part Day Enrichment Program, which provides part day preschool for children 3 - 5 years of age. This program runs Mon - Fri and parents can choose from 2 sessions 8:00 - 11:00 a.m. or 8:00 a.m. - 12:00 p.m. Please contact the CDP Annex at 652-1140 for more information.

Eligibility

Eligibility and priority are established through AFI 34-248. Active duty, DoD civilian dual employed parents, single parents, dual military couples and those attending school full-time and are assigned to or living on Randolph Air Force Base are given priority.

Fees may be paid bi-monthly or monthly only.
School Age Program (SAP)

We are very proud of our National School Age Association program. The program has received accreditation through the National School Age Association. Our commitment is to provide your child with a quality program that is also committed to providing each child with a unique growing and learning relationship. Hours are from 6:45 a.m. to 5:45 p.m. daily, and an all day program is also conducted on days when Randolph school has holidays which are not legal holidays. (The Randolph ISD schedule is followed). The child to staff ratio is 12-1. Youngsters arriving for the before-school program will be accompanied to the bus stop at 7:40 a.m. Children attending the after-school program are brought back to the center by bus when school is out. Fees are based on a sliding scale determined by DoD.
The program offers full day camp programs during the summer and also during Christmas and Spring break holidays. Our camp dates follow the Randolph ISD school year calendar.

Family Child Care (FCC)

The FCC program offers monitored home-based child care services provided in base housing and off-base affiliated homes. Provides developmentally appropriate activities for children 0-12 years of age. Regular, part-time and hourly care is available Monday - Sunday, including nights and weekends. Resource and referral services are offered for parents.