Registration
---
Military Police Operations Center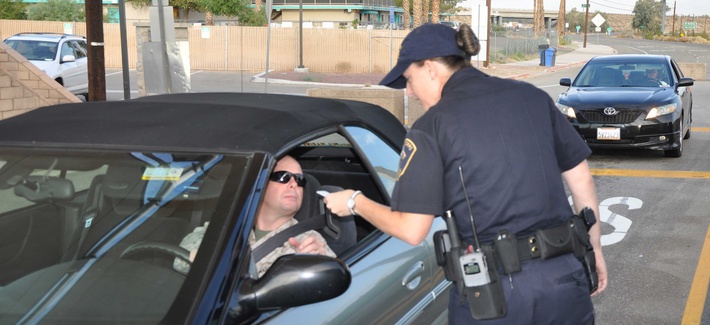 (808) 257-2123

LOCATION
Building 1096
Adjacent to 3rd Street and the Softball Field

MAILING ADDRESS
Provost Marshal's Office
Box 63062
Kaneohe Bay, HI 96863

Provost Marshal's Office
Box 64126
MCBH, Camp H.M. Smith
Aiea, Hawaii 96861

Decals/Vehicle Registration/Check In/Check Out/Fingerprints and Weapons Registration/
Traffic Court Bailiff and Police Records
Bldg 1095, 1st deck (facing 3rd Street).
Hours of Operation: Monday through Friday 0730-1630
(808) 257-6994 or 257-0183
Pass House
Building 1637
Next to the Main Gate (H-3)
(808) 257-2047
Open 7 days a week from 0600 until 1800 for passes.
To register your vehicle aboard MCBH you must have:
1. Valid Hawaii State registration.
2. Valid Hawaii no-fault insurance.
3. Valid Hawaii State safety inspection.
4. A valid state drivers license.
5. A DOD authorized identification card.
6. Completed MCBH Vehicle Registration Form. (MCBH Decal Application Form)
7. Additional documents maybe required.
**Bring the above items with you when registering your vehicle**
For additional questions regarding vehicle registration please call (808) 257-0183.
CHILD SEATS
Any child under four years of age or under 40 pounds must be in a approved safety seat at all times while riding in a vehicle.
WEAPONS
Owners of rifles and shotguns purchased outside the state, and owners of all handguns, must apply for State of Hawaii registration in person with firearm(s) at the Honolulu Police Department (HPD), 801 South Beretania Street, Honolulu. If you reside on base you must register firearms with PMO, building 1095 1st deck check in/ check out office and HPD. BEQ residents must store weapons in their unit armory. Other weapons requiring registration: Underwater spear guns Air pistols and rifles Air compressed gas pistols and rifles that fire a pellet, BB, or dart Crossbows and bolts.
REQUIRED SAFETY EQUIPMENT
Per MCO 5100.19F Required Motorcycle/Moped Personal Protective Equipment (PPE) – for all riders and passengers.
The following are definitions of PPE.
Helmet. An approved helmet meets the standards of Federal Motor Vehicle Safety Standard (FMVSS) 218. When a helmet manufacture meets or exceeds FMVSS 218 test standards, "DOT" and/or "SNELL" may be applied by the manufacturer and usually appears centered on the back of the helmet in white letters on a black background. Regardless of the lettering on the back of the helmet, a non-removable (usually stitched) tag is installed on the inside the helmet that indicates the helmet meets FMVSS 218. There is also a tag or sticker inside the helmet that provides make, manufacture, material used for manufacture of the helmet, and date of manufacture. The interior head padding is typically one inch (1") thick, and the chin strap is riveted to the helmet and uses a non-snapping buckle under the chin.
Eye Protection. Eye protection is defined as riding glasses or goggles that are American National Safety Institute (ANSI) approved and shatter resistant. Eye protection used without a face shield or windshield should seal the cup of the eye through the use of a strip of foam or material
around inside of lens.
Hand Protection. Hand protection consists of full fingered riding gloves. The glove shall be constructed of, or with, abrasion resistant material. Gloves are preferably designed for riding, have added padding, and retain a natural curl when not worn.
Long Sleeves or Jacket. A long sleeve shirt shall be past the elbow while the rider's hands are on the handlebar grips. A riding shirt or jacket should be constructed of abrasion resistant material. An armored type riding jacket made of abrasion resistant material is highly recommended.
Leg Protection. Leg protection is sturdy, full length pants or trousers that extend past the knee, and meet the top of the riding boot when seated on the motorcycle under normal riding conditions
Foot Protection. Foot protection is sturdy, above the ankle shoes or boots that provide support and traction when riding or when in transition of movement from a stop/starting position. Unacceptable foot wear is defined as any shoe or boot that has an open toe, open foot/heel design, extensive heel over 2 inches, or a total canvas or rubber material construction.
SAFETY COURSE: To schedule attendance at the motorcycle safety course at MCB Hawaii call 257-1830 or Ford Island at 472-7569.
BICYCLES

Safety gear required while operating a bicycle aboard base:
Property fitted and fastened helmet.
White light visible 500 feet to the front.
A crystal (white) reflector at least three square inches in front and unobstructed when viewed.
Amber reflectors on front and rear of all pedals.
Red reflector at least three square inches facing the rear and unobstructed when viewed.
During hours of darkness bicyclists should wear light colored or reflective clothing.
CITATIONS
For all questions concerning processing of citations aboard MCB Hawaii, contact the traffic court bailiff located in building 1095 1st deck (facing 3rd Street), or call (808) 257-6991/6992.
PARKING CITATIONS: If you accumulate three illegal parking citations in a six month period your driving privileges aboard MCBH may be suspended for 30 days.
MOVING VIOLATION CITATIONS: If you accumulate 12 or more points within a calendar year, your driving privileges aboard MCBH may be suspended.
FIX IT CITATIONS: These citations are for expired registration, expired safety inspection, broken headlight/tailight, cracked windshield, bald tires, and other related offenses. You have ten working days after the date on the citation to correct the problem.
HASP: Hawaii Armed Services Police. All incidents involving HPD will be turned over to HASP, and then to your command.
CRIME PREVENTION SERVICE
Operation Identification, lost and found property, child fingerprinting/I.D., Bicycle Rodeo, bicycle security, McGruff, and neighborhood watch/meetings.