Check In \ Processing
---
Check-in Procedures
Documents to Hand Carry
It is important to hand carry the following documents: copies of your orders, marriage licenses, adoption papers, school records, school information such as address of last school attended, divorce decrees, immigration certificates, birth certificates, advance pay, household good inventories, travel documentation, passports as well as any medical or dental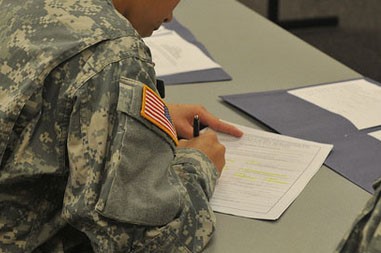 records that are not being transferred by the military.
Reporting Procedures
Individuals should sign in at their assigned unit prior to reporting to inprocessing. Inprocessing paperwork is available at HHC AMCOM, Bldg 3494, Honest John Road or call 256-842-7091. To make your inprocessing easier, the following services are located near HHC AMCOM in Bldg 3433: Transportation (inbound household goods), or phone 256-876-4954 and Travel or phone 256-876-7352. In Bldg 3439 Honest John Road, you can find the Office of the Staff Judge Advocate (loss or damage claims) or phone 256-876-9005, and the Inspector General Office or phone 256-876-9701, in Bldg 3215, Hercules Road. Military Pay is located in Bldg 3494, Honest John Road, and their phone is 256-842-0998.
Permanent Duty Soldiers - Permanent duty soldiers assigned to Redstone report to HHC AMCOM,Garrison, Bldg 3494, Honest John Road, phone 256-842-7091 or DSN 788-7091 during business hours. There are no barracks on post to house soldiers. Arrangements for temporary housing may be made through IHG Hotel - Redstone by calling 256-876-5713.
Getting Married Enroute
If you get married before you PCS, you must inform your command and follow the procedures exactly as you are given them. The military will not pay for travel and housing of your spouse if you do not follow proper procedures.
Newcomers Orientation
Army Community Service hosts a Newcomer's Orientation four times a year in January, April, July and October. Attendance is mandatory for permanent party members and spouses are invited to attend. Free child care is provided at the Child Development Center. The orientation features speakers, information booths, and a bus tour. For more information, contact the Relocation Assistance Program Manager at 256-876-5397.
Sponsorship
Military personal and Department of Defense employees may request a sponsor from their gaining unit or organization. A sponsor serves as the welcoming link between the new arrivals and the organization.
Whether you are military or a Department of Defense civilian employee, you can request a welcome packet by contacting Army Community Service (ACS) at 256-876-5397 or DSN 312-746-5397. Welcome packets are also available through written request or stopping by ACS during regular business hours. ACS is located at Building 3338, Redeye Road, Redstone Arsenal, 35898.