Check In \ Processing
---
Reporting Procedures
Anyone who is assigned to or attached to US Army Headquarters Company Garrison must report to the inprocessing section of the Military Personnel Office upon arrival. They are located in building 35, next to the Main Gate, and are open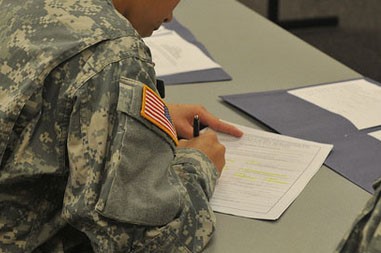 from 7:30 a.m. - 3:30 p.m. Bring your 201 file and leave form. If arriving after hours or on a weekend, call 2-3960 from on post or 608-388-3960 from a local community to check in, and report in person the following workday.
Those who are assigned to tenant activities should report directly to their units. The unit will set up your appointment with Military Personnel and Finance for inprocessing.
All active duty/AGR Soldiers assigned or attached to Fort McCoy or within a one hour commute must report to the Family Housing Office in 6158 H Circle, Sparta WI, M-F 7:30 a.m.- 4:00 p.m. within 30 days of reporting to Fort McCoy. To apply for Family Housing, a DD 1746; Application for Family Housing, must be submitted along with PCS orders and a copy of the DA 31; Request and Authorization for Leave, showing the date signed out of the unit you are departing. If there is no government family housing available, families will need to rent in one of the local communities. The Community Housing representative actively coordinates with landlords and realtors to insure listings of apartments, townhouses and homes to rent or purchase are suitable. Unaccompanied Personnel Housing for single Permanent Party Soldiers is also available.
Incoming Department of Army civilians should report to the Civilian Personnel Advisory Center (CPAC) at 2187 South J Street. Be sure to have your most recent SF50 and any other pertinent personnel records when you report.
Army Community Service (ACS) Relocation Readiness is designed to make your transition into our community an easier, more pleasant experience. Please stop by to inprocess with ACS and take advantage of the many services that are available. A Newcomer Orientation is held the 2nd Wednesday of each month with information provided by various activities and an installation tour is conducted. Our lending closet provides essential items while you are awaiting the arrival of your household goods. Let us be one of your first stops in the relocation process.
Important Documents to Hand Carry
Important documents are difficult to replace. Do not pack these items in your HHG shipment. Hand carry the following list of items:
Passports, immunization records, official birth, marriage, divorce, adoption or death certificates, wills, powers of attorney, naturalization papers and complete information on citizenship proceedings, tax records and other documents necessary to file taxes, house and property deeds and associated paperwork, military records, bank books, savings bonds and other securities, social security cards, car titles and shipping papers, sales receipt for household furniture and other high value items and household shipping inventories. There may be others that you will also want to hand carry as well. Please review a comprehensive list in Plan My Move above the calendar behind the button Documents to Hand Carry.
What to do if you Get Married Enroute
If you get married before you PCS, you must inform your Commander and follow the procedures exactly as you are given them. The military will not pay for travel and housing of your spouse if you do not follow proper procedures.