Check In \ Processing
---
Welcome/Visitors Center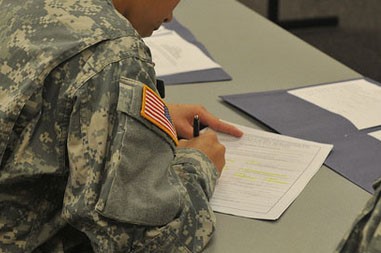 Fort Devens Welcome Center
Building 683, Box 11
61 Quebec Street
Devens, MA 01434
Phone 978-796-3023 / 978-796-3119
Phone (DSN) 312-256-3023/3119
Fax 978-796-2114
Fax (DSN) 312-256-2114
Mon – Fri 6:30 a.m. – 4:30 p.m.
Sat and Sun - closed
Relocation Assistance
Relocation Services are available at Army Community Service (ACS), Bldg 683, 61 Quebec St., Fort Devens, MA at 978-796-3023 or DSN 312-256-3023. Hours of operation are 6:30 a.m. to 4:00 p.m.
Relocation Assistance includes a Devens Welcome Packet with maps, pamphlets and information on area towns, schools, health services, places to shop, etc. Important information on state laws and requirements is available. To receive a Welcome Packet from Fort Devens, please call 978-796-3119. Fort Devens offers a loan closet with essential items such as Irons/Ironing boards, coolers, chairs, radios, futons, kitchen cookware and dishes, car seats, playpens, strollers, coffee makers and microwaves. There is a two week limit on lending items. Call 978-796-3023 for more information.
Directions to Installation
The best way to get from Logan Airport to Devens is by limousine service. Travel time is one hour during non rush-hour times, more during rush-hour (7:00 - 9:00 a.m.) and (4;00 - 6:00 p.m). Delays are not uncommon to and from Logan. The following companies provide transportation between Logan Airport and Devens and will assist you in the final leg of your travel. Reservations should be made at least 2 days in advance of arrival at Logan. The cost will be reimbursed to you when you file your travel voucher at your servicing Finance and Accounting Office, but ONLY if you have a receipt.
**Avoid using commercial taxis, which will cost you up to $70.00 from Logan Airport to Devens. This cost may not be fully reimbursed by the government. Always ask for and receive a receipt in order to be reimbursed for your official travel.
Knights Limo, 1-800-822-5456 Cost: call for current prices Comments: door to door service
First Choice Limo , 1-800-370-LIMO Cost: call for current prices Comments: door to door service.
Directions from Logan Airport to Fort Devens via Interstate 93 North:
Follow signs to Sumner Tunnel. After toll booth ($2.00), stay in left lane through the tunnel, bear left on Interstate 93 North.
Stay on Interstate 93 North for approximately 10 miles.
Exit on to Interstate 95 South (Waltham exit).
Stay on Interstate 95 South for about 7-8 miles, exit to Route 2 West.
Stay on Route 2 West for approximately 23 miles (you will pass a rotary or traffic circle as you continue on Route 2 West).
Continue on 2 West and pass under Interstate 495. Once you pass under I-495 you are fifteen minutes away from Devens, Exit 37B, Jackson Road, Devens.
Take first right off Jackson Road.
Left at first intersection
First right to the MP gate for ID check
Directions from Logan Airport using the subway, then train:
Take the Airport Courtesy Shuttle to the Blue Line Station, Blue Line to State Street, transfer to Orange Line to North Station, Boston, cost is approximately 85 cents. Train from North Station to the town of Ayer. Cost is approximately $6.00. Taxi from Ayer train station to Devens is approximately $6.00. A taxi stand is located one block from the train station on Main Street, Ayer. Ayer Town Taxi, 49 Main Street, Ayer, MA. 01432; 978-772-7220.
Manchester New Hampshire Airport -- 603-624-6556. Proximity To Devens: 30 miles