Paying for PCS: Know your Entitlements
When PCSing many families worry about the financial strain it can place. Making sure you are informed as possible is the best way to prevent any unneeded worry.
TLE - Temporary Lodging Expense
TLA - Temporary Lodging Allowances
MALT - Mileage Allowances
DLA - Dislocation Allowances
Overseas COLA - Overseas Cost of Living Allowance
CONUS COLA - Overseas Living Expense
Per Diem Allowances - Per Day Allowances
Temporary Lodging Expense (TLE)
TLE is designed to offset the cost of lodging and meals when a service member and dependents need temporary housing in connection to a PCS.
The service member (with dependents) will receive reimbursement for temporary lodging and meal expenses, up to $290 per day.
If the member is moving from one CONUS base to another, he/she is authorized up to 10 days TLE.
**TLE is not paid for lodging during the actual travel days from one duty station to another (that's entirely different, called "per diem,") rather it's for temporary lodging (in the states) at the old duty station, before departure, or at the new duty station, after arrival.
Temporary Lodging Allowance (TLA)
Applies to a special allowance for service members when they first depart or arrive OCONUS (outside the Continental United States) to offset the expenses for temporary housing needs.
What TLE is to CONUS, TLA is to overseas. Up to 60 days (can be extended) may be paid for temporary lodging expenses and meal expenses after a military member (family) arrive at a new overseas duty station, while awaiting housing. Up to 10 days of TLA can be paid for temporary lodging expenses in the overseas location, prior to departure.
Mileage Allowance- MALT
When a service member elects to drive their POV (privately owned vehicle) to a new duty station, this allowance is based on mileage.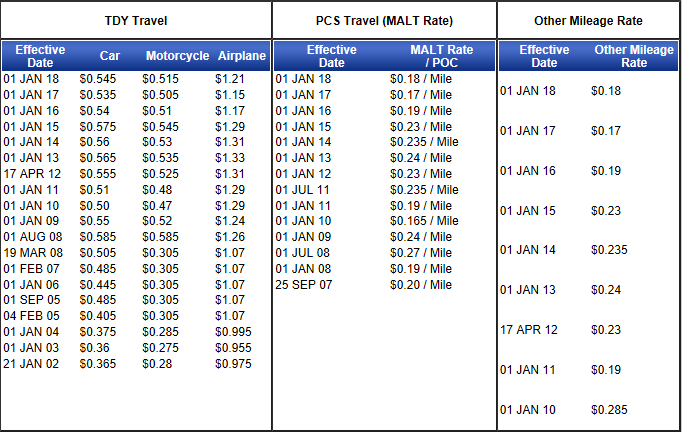 Dislocation Allowance- DLA
The purpose of DLA is to partially reimburse a member for the expenses incurred in relocating the household on a PCS, ordered for the government's convenience, or incident to an evacuation. this allowance is in addition to all other allowances authorized in this Joint Federal Travel Regulation (JFTR) and may be paid in advance.
http://www.defensetravel.dod.mil/site/otherratesDLA.cfm
Overseas Cost of Living Allowance- CONUS COLA
The cost of living allowance or COLA, is paid to service members to partially offset high cost when stationed overseas (including Alaska and Hawaii). COLA helps maintain purchasing power, so you can purchase the same goods and services overseas as in CONUS. It does not reimburse expenses, but is designed to offset higher overseas prices of goods and services. It does not compensate for remoteness, hardship, or non-availability of goods and services.
http://www.defensetravel.dod.mil/site/colaCalc.cfm
Per Diem
This is a daily allowance to service members and their families traveling to a new duty station. Rates can range from a standard CONUS rate of $99 per day to over $400 per day for OCONUS rates.
You can can check COLA and Per Diem rates at http://www.defensetravel.dod.mil/site/perdiemCalc.cfm
All calculators are property of the DoD
---