Check In \ Processing
---
In processing Procedures
You should have made meeting arrangements with your Sponsor prior to reporting onboard, if you have not or you have missed your sponsor, you may always report to the Command Duty Office (CDO), 301-295-4611 located in Building 1, or at your command check-in point. Have your orders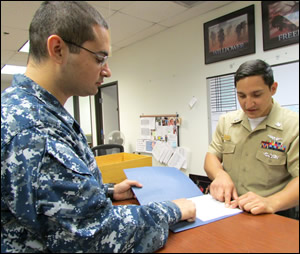 stamped at your check-in point, so that your leave will be stopped.
From your check-in point, report to the Personnel Support Detachment (PSD) located in building 17. When reporting to PSD, you should have your stamped orders, service record (if still in custody of); receipts from your travel and your detaching endorsement FID (SH03). With PSDs help you will fill out a new SGLI form, update your Page 2, and fill out your travel claim - part of your travel claim will be for you to get your Temporary Lodging Expenses (TLE). You can get 10 days paid lodging with receipts. Receipt must indicate a zero balance. 10 days lodging must be between previous duty station and gaining duty station.
You will need to have permissive leave for house-hunting approved prior to taking the leave. This can be accomplished through your command administrative office.
At your new command, you will get your base check-in sheet. Get your sponsor or someone from your command to help you find your way around the base. You will need a sponsor who can assist you with your needs. To ensure a sponsor is assigned, you may also contact your gaining command. For a listing of commands see Major Unit Listings. Don't forget to fill out you sponsor questionnaire sheet when you check in at your new command or at the Fleet and Family Support Center located in Building 11.
If you have been directed to go to your command check-in location, call your sponsor for directions or ask at the gate.