Childcare
---
Youth Programs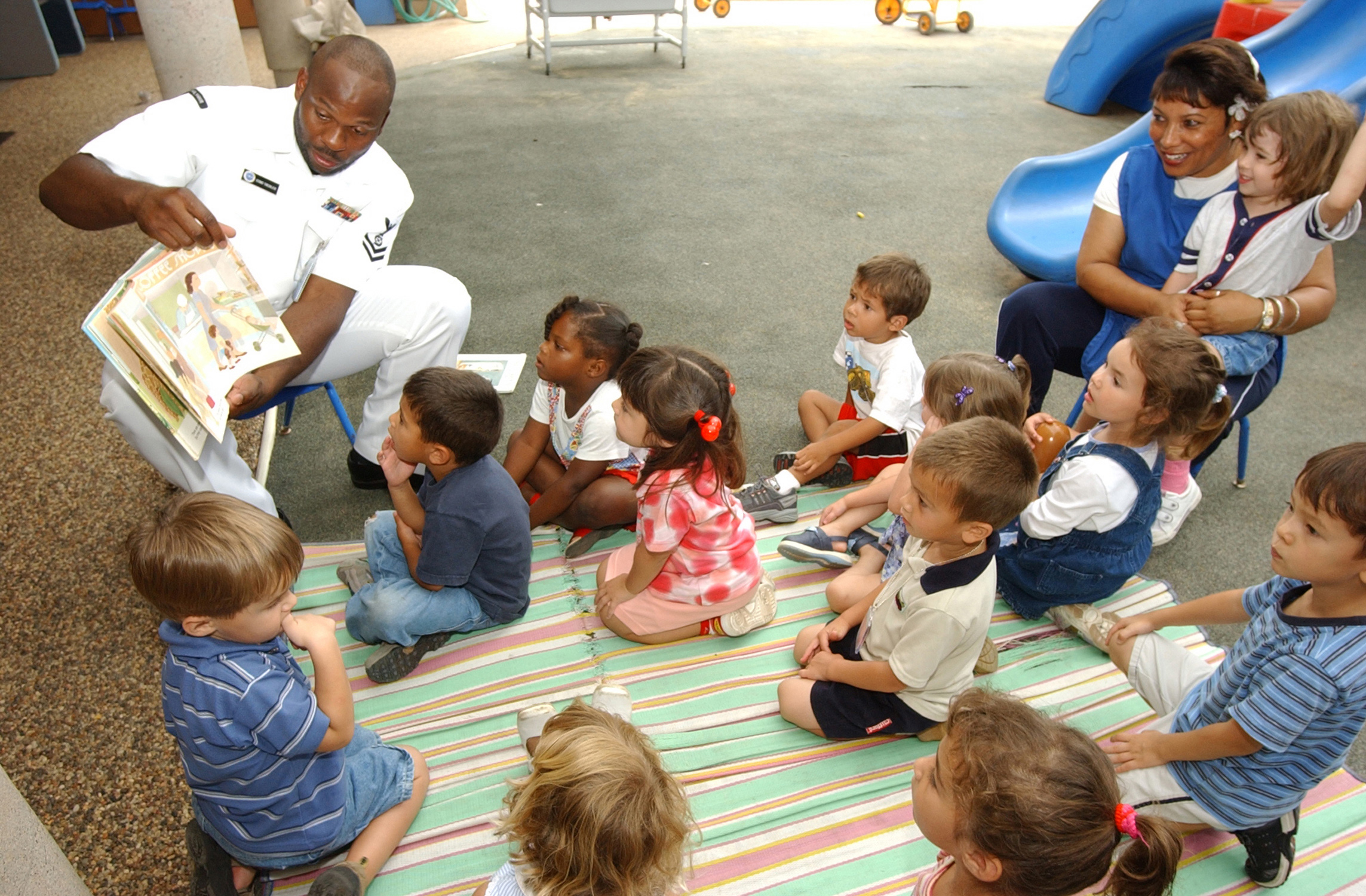 Bldg 1335
JBPHH, HI 96853-5256
Phone 808-448-5256
Phone (DSN) 315-448-5256
Fax 808-448-0169
Fax (DSN) 315-448-0169
Mon – Fri 6:00 a.m. to 6:00 p.m.
Child Development Center (CDC)
COMMANDER NAVY REGION HAWAII CHILD AND YOUTH PROGRAMS - CHILD DEVELOPMENT CENTERS (CDC): Child Development Centers are located on both the island of O'ahu and the island of Kauai. On O'ahu there are eight (8) CDC's, two (2) school age care (SAC) locations, one (1) 24/7 Care Home and approximately 20 Certified Development Homes. On Kauai there is one (1) CDC and one (1) School Age Care program located on PMRF. Our CDC's care for children ages six weeks to Pre-Kindergarten and the School Age Care facilities care for children five years (school age) to 12. Our centers are designed to be a home away from home for children of working parents while providing a safe, healthy learning environment where children ages infant (six weeks) to five years can discover, explore and learn about the world around them. Our creative curriculum is used to promote your child's physical, cognitive, social, emotional and language development. All our facilities provide full one-day care, part-day and hourly care on a space available basis. Eligibility requirements are for Wounded Warriors, Active Duty, Activated Guard and Reserve, Federal DoD Employees and this is capture when families register at Military Childcare.
Our Centers are accredited by the National Association for the Education of Young Children (NAEYC) and meet the highest quality of early childhood program standards and criteria. Our staff is certified in Red Cross CPR and First aid, as well as trained in Developmentally Appropriate activities for young children. Staff members are trained in accordance with the highest DoD standardized module training program. Our philosophy is that children learn through play. Our primary goal is to provide a safe, healthy, caring and learning environment that encourages positive growth of the child.
Preschool Program
The Navy Preschool Program: This Program is designed to prepare your child for the coming school years. Individual observations are documented and activities are planned to guide each preschool child's development. Our curriculum and daily structure will equip your child with the basic academics and skills to enhance school readiness. These skills include self-control and regulation, following directions, group socialization, and working on individual and group projects.
All children five years of age after July 31 are eligible to attend the Navy Preschool Programs in Hawaii. To attend public school kindergarten in the state of Hawaii, children must turn/be five years of age on or before 30 July 2015 to attend Hawaii Public School kindergarten.
The Navy Preschool Program parallels core curriculum areas of language and literacy, science, math and social studies align with the Common Core Standards being used widely throughout the United States. Specialized books, equipment and materials will be utilized based on each child's individual developmental needs. A balance of child-initiated activities and teacher-directed lessons and projects will fill each day with fun and learning for every child.
Teaching Strategies Gold® online assessments will guide teacher observations. The Objectives for Development and Learning provides a guide to skills, knowledge and behaviors that are most predictive of school success. Teachers will scaffold children's learning, collect work samples and share them with families during scheduled conferences.
School Age Care (SAC)
School-Age Care: Our School-Age facilities provide care for school-age children before and after school as well as non-federal holidays and provide daily camps during all public school breaks. They also provide drop-in care on a space-available basis.
Within our program children have 10 different interest areas to choose from. Each interest area has a counselor guided weekly activity plan that the children can participate in. During our school breaks we hold full day interactive camps that include a variety of field trips, outings and guest presentations.
Child Development Homes (CDH)
Child Development Homes: Our Child Development Homes program provides high quality childcare through a network of certified home providers living in Joint Base Pearl Harbor Hickam housing. Home providers offer care for children ages six weeks to 12 years and developmentally appropriate activities in a home atmosphere. Hours are flexible to meet parents' needs. Programs include full time, part time, drop-in, evening, overnight and weekend care.
Registration Process to Add Child(ren) on the CDC Waiting List
To register for any of the Child Development Centers', School Age Care or Child Development Homes waitlist for full day/part day care go to Military Childcare website to set up a request and family account. For more information and to learn about all CNRH CYP Programs visit the website or call 808-473-0721/0725 and speak to the CYP Program Office.
Hours of operation for CDC's and School Age Care - Monday - Friday 6:00 a.m. - 6:00 p.m.
Hours of operation for the 24/7 Care Home, Kid's Cove - Seven Days a Week - 24/7
Hours for Certified Home Care - Caregivers provide hours to clients once enrolled
ADDITIONAL Child Care FOCUSED PROGRAMS:
Give Parents a Break: Military families are subject to unique stressors associated with military life, including deployments, remote tours of duty, and extended working hours. The Navy Child & Youth Programs (CYP) "Give Parents a Break (GPAB)" program is designed to give family members a short break from parenting in order to help them deal with these types of stressful situations. The GPAB program is designed to standardize respite care at all installations operating CYP programs. Spaces are based on referrals.
Parents Night Out: Need some time to enjoy a movie, dinner or just to run some errands without your children? CNRH Child and Youth Programs offer evening child care at Bangor Child Development Center. All eligible families with children infant to 12 years can reserve hourly care at a flat rate of $20 per hour, per child. Sponsor must complete registration process; advance reservation is required.
In Hawaii, registration begins on the 1st duty day of the month through the end of the first week. For information call 808-471-8439.

Armed Services YMCA (ASYMCA) Play morning
The Armed Services YMCA play morning provides learning readiness activities for children ages 0-5. Parents and children have fun learning together through free play, crafts and circle time. Play morning is $2.00 per child, per visit. Play morning is hosted at Hickam Community Center Monday and Wednesday mornings from 10 am to 11:30 am. For more information please call ASYMCA Honolulu at (808) 473-3398.
For children with special needs, please contact the Exceptional Family Member Program at the Military and Family Support Center at 808-474-1999/ 808-474-1931, DSN 315-474-1999.
Armed Services YMCA
The Armed Services YMCA (ASYMCA) of Honolulu provides innovative and quality social, educational and recreational programs to meet the needs of military service members and their families in the state of Hawaii.
The ASYMCA is committed to strengthening military families, supporting healthy lifestyles, reducing isolation and linking service members and their families to the community. We are honored to provide low cost specialized programs and support services to military members and their families with a particular focus on junior enlisted. For more information about programs please call (808) 473-3398.