"Yes, they will pack the trash."
Have you heard the saying, "April Showers Bring May Flowers?" Well, in the case of most military families, April showers usually bring May, June, and July PCS orders! Whether it is your very first military move, or you are a seasoned pro, there is always that moment of panic. Did I empty the dishwasher? Did I remember to empty all the garbage cans? Trust me, I know this from experience! I had forgotten to empty a garbage can and sure enough the movers packed the garbage can with rubbish inside. Imagine my surprise when we arrived at our new duty station with a garbage can already filled with garbage.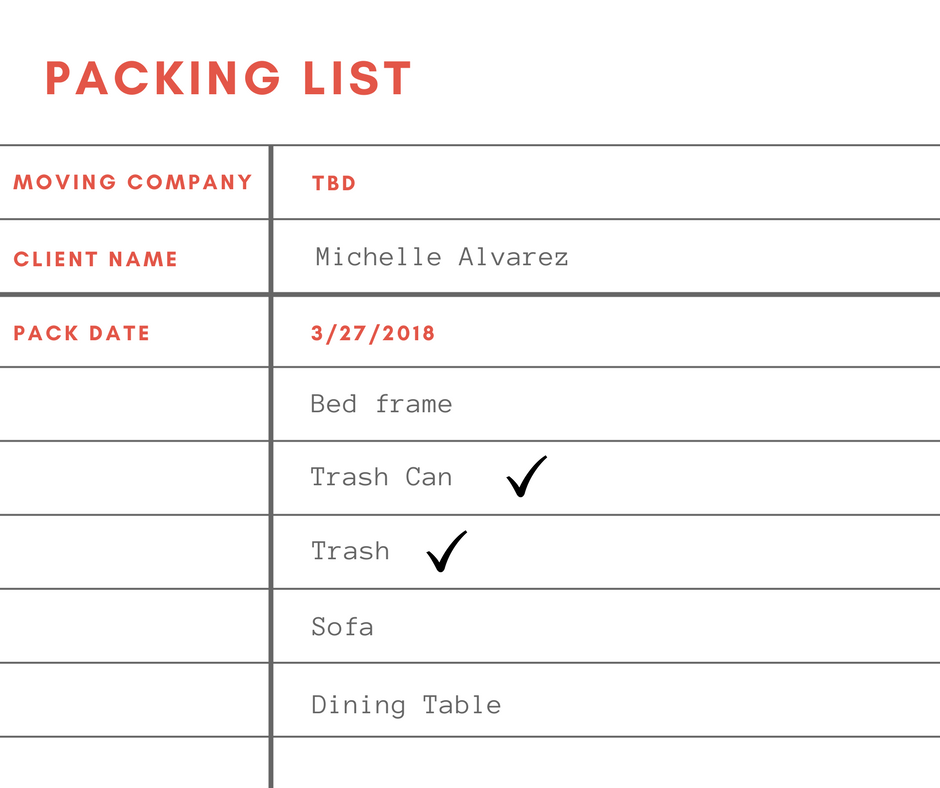 When preparing for a move, you will want to start to get your ducks in a row about three months prior. You will want to try and purge anything that does not/will not survive the move. That is also a great time to go through closets and donate anything that you don't want anymore. Clean out the closets and if you are brave enough, try and sort through the garages or attics. Another great thing to do when you start cleaning out your space is having a yard sale! It helps to get rid of those unwanted things while making a little bit of extra dough. You can also donate those unwanted items. Make sure and donate to something that means something to you. I always used Veterans Across America; helping me purge while helping other service members and veterans.
The next thing you'll want to start doing is taking things off the wall. It'll help the movers when they arrive to pack. And you'll also be able to wipe off all the dust that has been collecting on those knick knacks! You'll be doing a lot of cleaning during this process. They kind of go hand in hand. You will also be able to have a better picture of what you have, what you will need to separate from the things that can get packed first and the things you will want to save for the very last such as bedding and towels. This step is actually pretty important. It will help you decide what items have the most value and meaning. Decide which things you will want to pack with you or in your own personal luggage. It's a good idea to even have a box or two of valuable belongings that you don't want out of your possession. You will want to decide what to pack. Try and gauge how much stuff you'll need in order to get you through the move and to your next duty station.
When it come to the bigger items such as beds, tables, and other furniture, this is usually something that the movers will/can take apart and pack, HOWEVER, you may want to consider breaking down those pieces yourself. Take the pieces that go to the furniture and put them in a zip lock bag; tape the baggie to the piece of furniture. This makes for an easy setup process on the other end. You will also know which screw goes where and you'll be able to keep that hardware with the piece it belongs too. Or, you could end up with a box full of nuts and screws with no home.
Once moving out day gets closer, you should have a pre-move walkthrough with the transport company. The assigned movers will walk through your home and get an idea of how much material and packing boxes they will need. It will also be a good time for you to find out if there is anything you can do to help make the pack up go more smoothly. You can also get an estimated time frame of how long pack up and pick up will take. But be prepared for it to take longer than needed and your belonging have filled a semi-truck and they need to dispatch another truck an hour away to finish your pick up. (Personal experience!)
Overall, just be nice! Introduce yourself and your family so they get a better feel for your personal belongings. I always like to provide lunch and keep them hydrated and alert with water and coffee. You treat them right, they will take extra care with your personal possessions.
All moving companies run their ship differently. Some may be okay with you packing your own things. They may be okay with packing items in its original packaging. Some may even pack your spices and food/drink items that are unopened. Whatever their requests are, just be sure and follow them. It will help the pack up go more smoothly and they won't need to spend extra time doing unnecessary tasks.
Thanks for reading!! Coming up next, "Cross Country Trip with the Children!"
Michelle Alvarez
---