Should I Stay or Should I Go: Staying Home During Deployment
It was July 2008 and my husband, and I were stationed in an amazing place…Hawaii!! I had just given birth to a beautiful daughter and my husband was leaving for a nine-month deployment only four short weeks later. Being so far away from any family, I felt the best thing for my new baby and I to do was go to Texas to stay with my mom while my husband was deployed. So we started the usual duties. Giving our notice to housing that we would be vacating which was pretty easy because we had deployment orders. Packing up our entire house, which we had to do ourselves since this was not considered a military move. Put our vehicle in storage, which ended up being an empty field that allowed Marines and Sailors to "store" their vehicles while on deployment. And finally, make sure I had all the necessities to take care of a baby and myself for close to a year.
The four weeks flew by and my daughter and I were ready to embark on our long journey to Houston, TX. Little did I know; Hurricane Ike was on the horizon. Somehow, our trip was not cancelled and we made it into the airport. My mother was there to welcome her first grandchild, but the city was functioning at a minimum. There was limited electricity and the grocery stores were barren. My mother's area of town had no power so we had to go and stay with an uncle. Did I mention there were 10 other people besides myself and my child staying in a three-bedroom house? Needless to say, it was off to a rocky start, but I still thought this was the best choice for me. Turns out, it wasn't the best choice. I would go and stay at my grandparents' house during the day while my mom worked. I would see that my younger brother and sister went off to school and I would spend the rest of the day watching novelas with my grandmother.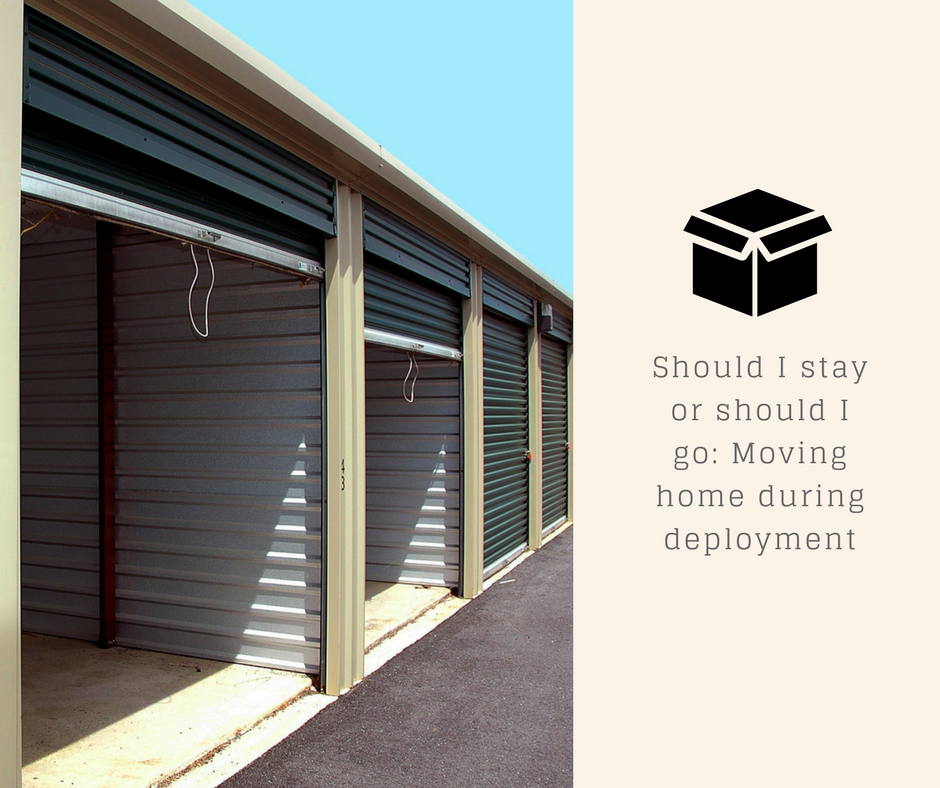 After a couple of months, I started to notice that I was watching over my brother and sister quite often while my mother went out to enjoy time with her friends. I had become a built-in babysitter. I thought being with my mom would give me a chance to learn how to care for my child; not the other way around. I stayed with my mom for about five months and decided I needed some space, so I went and stayed with my in-laws. It was better in regard to having a little more privacy, but it became rather lonely. Everyone had work and school, which left us to hang around the house most of the day. The nine-month deployment turned into an eleven-month deployment as my husband was sent directly from deployment to a course overseas. The last few months of the deployment my daughter and I jumped around from Washington to Texas, and Hawaii. Once my husband returned to Hawaii from deployment, it was his job to get the movers to our storage unit to pack up our belongings and get ready for another PCS. We were off to Fort Leonard Wood, MO.
I was fortunate enough to have a non-deployable spouse from 2009-2011. In 2011 my husband completed Warrant Officer Basic Course (WOBC) and we were off to Camp Pendleton to start a deployment rotation. Once again, I found myself about to deliver our second daughter while my husband was getting ready for an eight-month deployment. He left when our second child was four weeks old. Do you see the pattern?? I decided it was best for me to stay put this time.
I was more comfortable as a mom, and I wanted my husband to be able to come back to a place that was his home. This time was a little more hectic as we were in the process of buying a home. We were doing all the things you are not supposed to do all at once; moving and buying a house, getting ready for deployment, and having a baby. We had four weeks before he was to be off, so he basically had enough time to move all of our stuff to the new house and pack up his gear. I was left with boxes that still needed to be unpacked and a new town. I was lucky enough that my dad was willing to stay with me for the first month and help me get situated. He ended up spending most of his time walking around the block with a very colicky new baby. Which was great for me because I got to unpack my house, but bad for my dad's arms! This was my first deployment with two children, but I was determined to start our life in a new town and plant some kind of roots. I had to find a new preschool for my four-year-old and activities to keep us busy. Busy I was! My second child was very different from my first. My oldest was very much a go with the flow kind of girl. She hardly cried and was happy to be doing anything. My second baby was opposite, which made the transition difficult. But I worked through the kinks and held down the fort. At the end of the deployment, I had an established household and had a place for my husband to lay his head.
When being faced with a deployment, us as spouses, are always faced with the choice of packing up all your belongings, terminating your lease, whether it be base housing or a rental, and moving in with family, or staying put in your house and keep the day to day going. When you start to have children, it definitely makes the choice more challenging. Your kids may be in the middle of a school year or be super involved with activities. It`s hard to leave those things behind especially if your spouse will be returning to the same duty station. In the end, you have to make the best choice for you and your family. And sometimes we just have to learn from past experiences and go on from there. Basically, be just as adaptable as your spouse; if not more so.
Michelle Alvarez
---